I predict that this Christmas will be different for you in some way. Either it'll mark a "last time" of some sort, or a "first time" of another. Perhaps this year someone significant is missing—either gone for a time or have passed away—or maybe someone new has joined your circle of family and friends. New baby, new marriage, departed grandparents or children . . .
But one thing's for sure: this Christmas won't be like ones in the past.
How do I know this? Because over the years I've discovered that it's rare to have a "typical" or "traditional" Christmas. While each holiday tends to be happy, there are moments of sadness: sudden, unexpected, poignant sadness when you realize nothing will ever be quite the same.
And here's how I recommend you deal with happy-sad Christmas moments: let them happen. Let the tears trickle as you remember how things can never happen again. Mourn the difference, remember how you wished it could be again, think about what a "proper" Christmas is supposed to look like (we all have those unrealistic images in our heads, don't we?).
AND THEN move on and embrace what's new and good, and realize that maybe these should be considered sad-happy moments.
I was filled with these mournful/joyful thoughts as two of my sons attempted to put lights on the house the other evening. My oldest son, who's 22, eagerly rooted through the Christmas bins and discovered several light strands I wasn't going to use.
"Then I'm taking these outside!" he declared. I'd forgotten that he loved to put lights on the house, because the last time he did was five long years ago, before the army, before his LDS mission and his stint working the oil fields of North Dakota.
But this year—THIS year—he was home to make my house glow.
And I was overwhelmed with happy sadness by that, because I know that next year—NEXT year—he won't be putting lights on my house. He'll be married in a few months, and then we'll be moving 2700 miles away from him.
But today, I held on to the happy part. He dragged his reluctant 16-year-old brother to help him as the sun set and the cold grew to get lights on top of the snowy house. "Come on. Outside with you," he ordered his brother away from his computer game.
Age 16, grumbling as he put on his snow pants, said, "Why am I doing this?"
"Because," age 22 told him, "it'll teach you to be a man!"  (Since he's been in the army, age 22 has decided that everything unpleasant teaches you to be a man.)
"But this isn't necessary," age 16 countered.
"Yes, it is," insisted age 22. "We have to prove our house is better than the neighbors! Up the ladder, now."
I grabbed my camera, knowing that this would likely never happen again, my two sons squabbling as they put up lights for the first time together, for the last time together.
Nearly every Christmas has been something different. I realized some time ago that we don't know how to have a "proper" Christmas. A cursory count has revealed that we have:
Celebrated Christmas in 12 different houses over the past 28 years;
Once had Christmas at the beach (that felt so wrong);
Twice celebrated Christmas a full week AFTER the 25th, because some family was working in other states (yes, the presents just stayed under the tree until the 31st, and I got all the Christmas candy on sale);
Once celebrated Christmas a full week BEFORE the 25th, because we'd be out of town during the holiday (yes, we opened everything very early);
Three times have had newborns at Christmas (ok, one came four days later; and yes, fully 1/3 of our nine children have been born in December. I have no sense of planning whatsoever.)
Three times had our lives in boxes during Christmas, and had to search a storage unit for a bin of decorations to make the temporary home feel like ours again;
Three times had in-laws staying with us;
And this year, we will have a teenage Chinese national staying with us to experience a crowded, noisy Christian Christmas (not intending to traumatize the boy, but it'll likely happen anyway).
"Traditional" and "proper" don't really show up to our Christmases. One of the years when we had postponed Christmas, I was hospitalized with hemorrhaging on the 28th of December. The nurse treating me said it was a good thing the emergency happened after Christmas, and I told her that we still hadn't celebrated yet; we would open all our presents in two days. Then she gave me morphine for the pain, and I died right after that because no one knew I had a deadly reaction to morphine, and the ER staff kindly revived me again, and I spent our postponed Christmas laying on the couch at home eating steak to try to rebuild my depleted iron stores.
Not all Christmas activities are worth making into annual traditions.
We start new traditions and forget old ones, bring in new family, and say farewell to others. Bid goodbye to beloved houses, set up the tree in new places. And that's all ok.
I took these photos eight years ago at an extended family Christmas gathering, and knew then that it'd be the last one. My sister, mother, and father in these photos have all since passed away.
Even as I reviewed the photos that night, I began to weep, knowing that was one of the last times our family would all be together, and that Christmas would look different in the future.
Occasionally I envy some friends and neighbors whose Christmases are the same every year. They always visit grandparents, or have a cousins gathering, or spend the day with extended family doing the same things. Solid, reliable traditions . . .
But not us. One year, we skyped with my husband who was in three states away as we opened half our presents. It was like having Christmas with an Artificial Intelligence unit in the house.
This year we'll hurry through opening presents in the morning, then drive two hours down to our daughter's church to attend the service with them, and have a chili dinner at their apartment afterward. We'll never do all of that again, either, because we're all parting ways next year, I have no idea when I'll celebrate Christmas with my two grandchildren again. We haven't been grandparents long enough to establish any traditions that our moves can destroy. Happy-sad.
The other night as my sons called me to come outside for inspection, I looked up and smiled at this new tradition that would happen only once: brothers lighting the roof together. They plugged in the lights, and there was a minor Clark Griswold moment when age 22's section over the porch didn't come on. But age 16 smugly announced, "Yet all of my lights are working, thank you very much."
As he descended the ladder, loudly muttering that none of this was necessary, and age 22 went back to inspecting his dark half strand, I thought to myself, "Yes, all of this was necessary . . . for me." Only moms know how vital it is to see our kids working together, creating a brief yet deeply felt memory that maybe only mom will remember.
After only a minute of working on his disobedient strand, age 22 got the rest of his lights on, and I cheered.
Some traditions happen only once.
This year, remember that there's no such thing as a "traditional" or "typical" Christmas. When you find your celebration taking an unexpected or sad turn, embrace it and feel through it. The entire reason we celebrate Christmas is to remember that Christ came as "a man of sorrows, and acquainted with grief." He understands our joys and our sorrows, and he came to wipe away all our tears.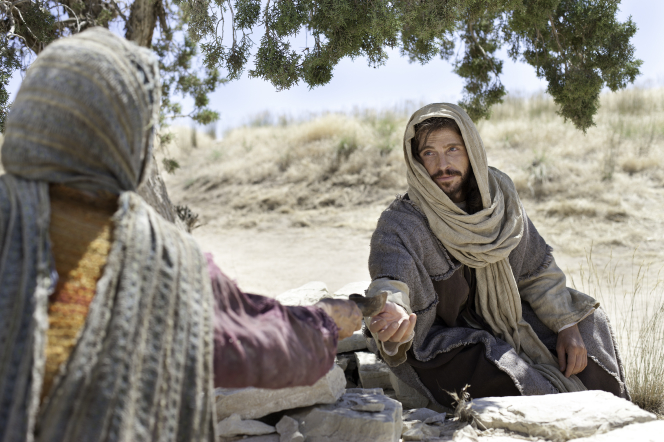 Let him. That's really the only proper way to celebrate Christmas.
"In the meantime, enjoy the tradition." ~Book 5, Safety Assured Leaving East of Medicetti