Despite the world's best efforts, it's not impossible to be happy.
That was the premise I began with as I stared at another dismal news day. Instead of ranting here about what's wrong in the world, as usual, I decided instead to spend a few days observing how people remain happy, especially when all around is misery. I've been surprised and intrigued by what I've noticed.
Here are the results of my very unscientific observations:
1) Happy people have not lived trouble-free lives. Contrary to what you may think, happy people frequently have waded through a great deal of grief. Illness, financial woes, death, homelessness, divorce: some of the happiest people have been handed some of the roughest ordeals. But they've learned to cope, to adapt, and to fiercely—insistently—find the joy in their trials. They choose to find joy. Probably because of this . . .
2)  Happy people are generous. They will give their time, their love, their talents, even their money to ease the burdens of others. They've discovered that one of the many ways happiness comes is by giving it to someone else.
3) Happy people live for others. They're not focused on themselves, which they've discovered is the surest way to become miserable. The happiest people are those who volunteer their time, who take care of those who can't give anything back to them, and who rarely think of themselves.
4) Happy people are humble. They don't boast about their accomplishments, or who they know, or what they own. In fact, you'd be surprised by just how much they've done with their lives, if ever you were to find out, because they don't advertise it.
5) Happy people rarely talk about themselves. In conversations, they'll focus all of their attention on you. When they ask about your day, they really want to know. When you leave their presence, you'll feel like the most important person in the world, and only later will you realize you heard very little about them.
6) Happy people are respectful. They will not ridicule, mock, or deride you. They may gently tease, but are careful to never drag you down, like crabs in a bucket. They respect your decisions, even if you don't respect theirs.
7) Happy people are content. They are satisfied with the choices they've made in their lives, so they have no issues with the choices you make in yours. They may make suggestions because they're concerned about your happiness, but they'll never force you to accept their way of doing things. They will let you live your life, your way.
8) Happy people smile. When you see happy people, you know it. By their eyes, which radiate joy, their smiles, which are genuine, and their body position, which is open and inviting. They have nothing to hide, nothing to guard, and everything to share.
9) Happy people are kind. To everyone and everything. They smile at children, give a weary parent a nod of approval, assist the elderly, and even pick up items that have fallen off of shelves at the store, because they want to make some employee's day just that much easier. Happy people are those who gently shoo away bugs instead of squashing them, and who will politely ask the stray dog to not befoul their gardens.
10) Happy people are honest. About you, about themselves, about the world around them. They don't deceive, and they don't cover up the truth, especially about themselves. If they are at fault, or if they have caused harm, they will ask forgiveness and actively seek to make restitution.  Happy people take full responsibility for their behavior and consequences, because they don't want to cause unhappiness in others.
11) Happy people don't take offense. Even if it's intended. They just let the words roll off their backs, like water off a duck, and generously decide that the potential offender has merely had a bad day. Happy people think the best of people in all circumstances, not the worst. In fact, it may be hard to convince a happy person that someone is truly bad. They just don't want to believe it.
12) Happy people are at peace.  That doesn't mean the world which they inhabit is peaceful. Indeed, some of the happiest people I've observed have been calm in the most chaotic of situations. But they are at peace with themselves, with their choices, with who they are becoming, and most importantly, they are at peace with God, whose peace surpasses all understanding.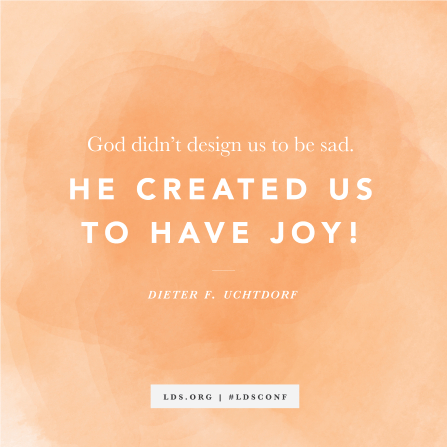 I see happy people everywhere, when I bother to look for them. Each of the items I've listed above I've noticed a happy person doing. (It was my dad who would politely ask dogs to leave our yard; he was the most peaceful man I've ever known. And yes, the dogs would leave, every time. He'd thank them, too.)
So how do we all become such happy people? I'm still working on that. It's the old chicken-and-the-egg question, I suppose. But one thing I've noticed in myself is when I do my best to have these happy traits–if I "feel" it or not–my happiness level automatically increases.
This is what I've discovered:
Watch for them, the happy people. Tell me what other traits you observe in them, in yourself.
Notice when you feel joy. It may be more frequently than you realize.
Most importantly, share that joy with others. We all need more happy people in our world.
There'd always be pain, and always suffering, Perrin knew–
"And also always relief, and also always joy. That's the trial of life, son, and it all works for our good. But it will always end in joy, Perrin."
~Book 5,Safety Assured Leaving East of Medicetti