In a few weeks I'm moving to the coast of Maine, and I have a problem. I don't understand something vital to the culture: the appeal of lighthouses and lobster boats.
I need some serious education here because these are iconic symbols. But when I see a lighthouse I think, "What a rickety old building. I guess it's clever to build it round, but why didn't they build it into a square shape? And why is it still here?"
I went through a lighthouse on the mid-Atlantic coast with some relatives a few years ago, and as we left the falling-apart, mildewy structure, I commented, "Someone should just knock this down and improve the view."
You would have thought that I suggested cutting up the Declaration of Independence to use it as toilet paper.
That "ruining the view" attitude is also my problem when it comes to lobster boats. They're rusty, look perpetually 60 years old, and get in the way of seeing the water and trees around. But there's some romantic mystique that I'm missing, because people have photos and paintings of lobster boats everywhere, and some folks even decorate with buoys and lobster traps.
I feel like Ben Wyatt in "Parks and Rec," discovering that everyone in Pawnee is enamored with a miniature horse named Lil' Sebastian. But he doesn't get it. "It's just a small horse," he points out, and everyone glares at him.
To me, the lobster boats would be like seeing a long-haul vehicle in front of the majestic Tetons. Get that vehicle out of the shot!
Or visiting a lighthouse is like going to tour a motor home instead of looking at the Rocky Mountains behind it. Why are we looking at this?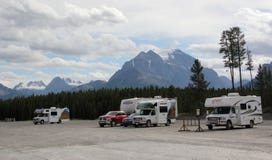 We value what our culture trains us to value, which is why I love the mountains and Yellowstone and the rugged, wild west. A relative from the east coast, however, once went through Yellowstone and came back with this shocking evaluation: "Three days of just bison, hot water, and no TV? I've had enough of that dullness to last me a lifetime."
Oh! Blasphemy!
Then again, this was the person who took me through the lighthouse and thought it was the greatest thing for a hundred miles around.
And I thought it was . . . dull.
You can see that I have a problem—the coast isn't my culture and I don't yet know how to appreciate it. I've tried researching this, but the assumption is that everyone already knows why lighthouses and lobster boats are appealing.
I want to learn. My parents learned how to embrace their new culture of the wild west after they immigrated from Germany. They learned to love barbecues, pioneers, deserts, and even said "Howdy" on occasion, and meant it!
So I'm issuing a plea: Explain to me the charm, lore, and love of lighthouses and lobster boats. Why are they appealing? Why should I get excited when my dear husband says we're going to visit them?
Teach me to love the culture of my new home.